Review: 'Wake Up, Sunshine' delivers summer nostalgia music
All Time Low returns from hiatus with upbeat pop-punk music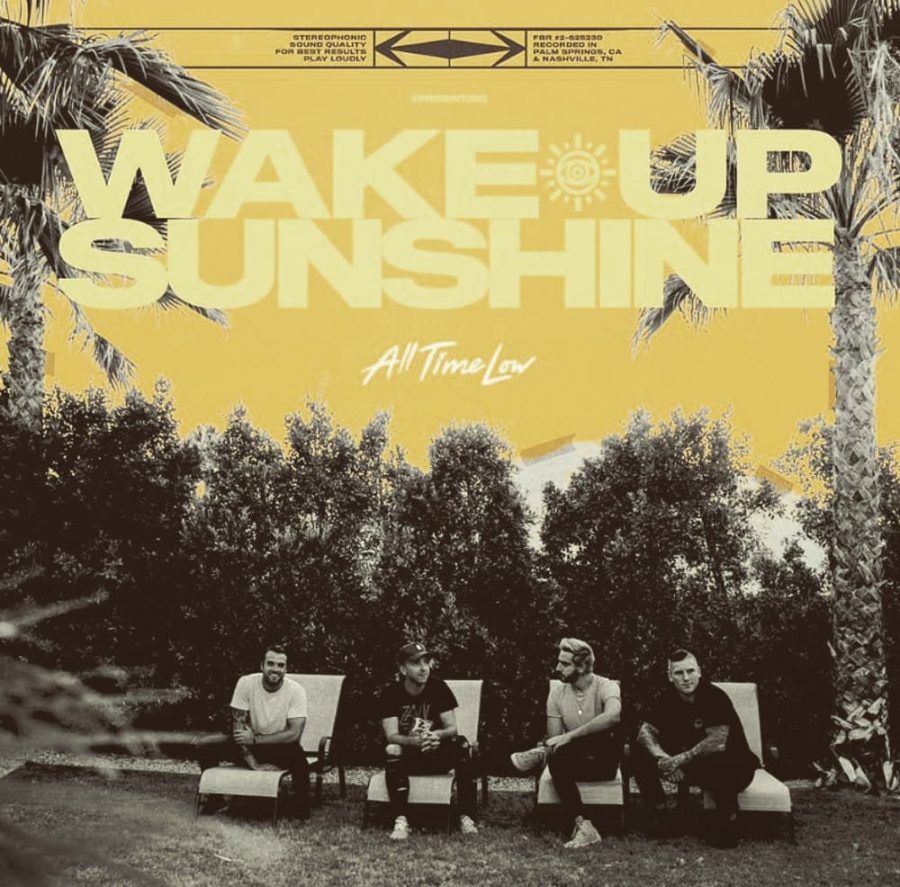 American rock band All Time Low released their eighth studio album, "Wake Up, Sunshine," on Friday, April 3. With 15 tracks, the album brings nostalgic, summer vibes that live up to its title. The band teased new music after a year-long break, stating it would sound like their previous work but in an upbeat and refined tone.
Singles "Some Kind of Disaster" and  "Sleeping In", released on Tuesday, Jan. 21 and Thursday, Feb. 20 respectively,  give insight to the type of music the album presents. The first single displays the band's struggles and how they have worked to overcome them, while the second presents a fun and carefree song to cheer up listeners' days. They create a balance both lyrically and musically, with "Some Kind of Disaster" filled with echo-like vocals and instrumentals to create an emotional moment, while "Sleeping In" has a fast-paced guitar and chorus to bring happiness.
Although the beginning of the album has a strong start, the tracks in the middle begin to blur and create a monotone sound. "Melancholy Kaleidoscope," "Trouble Is" and "Wake Up, Sunshine" each have a similar fast-paced and upbeat guitar sound. Reminiscent of the album "Don't Panic," the tracks have the similar message of being at a low point but pulling through to reach the highs again. The instrumentals and vocals on the other hand seem to be similar all throughout, blurring together until reaching a pause at the track "Monsters."
Featuring the artist blackbear, the band collaborated to give a new sound that differentiated from the rest of the album with "Monsters." Even as the band worked to produce a cheerful sounding album, they managed to sneak in a song that exhibits previous problems. With a heavy guitar sound and crackling vocals to create the sense of despair, it gives a throwback to the song "A Love Like War (feat. Vic Fuentes)" from their album "Don't Panic: It's Longer Now" that was released on Tuesday, Oct. 9, 2012. Vocals from blackbear further enhance the loneliness lingering in the song, seeming to transform the song and offer a pause from the strong guitar twangs and drums.
The later half of the album is where the summer nostalgia picks up again in unique ways. "Safe," "Clumsy" and "Basement Noises" create the image of spending a summer with friends, each holding a different memory and sound. "Basement Noises" has the strong vocals that stick with the listeners, while "Safe" mixes pauses with bursts of instrumentals and guitar solos to create the feeling of being safe.
Although a couple of tracks could have been cut from the album to allow others to shine brightly, "Wake Up, Sunshine" receives 4 out of 5 stars. Compared to the relaxed previous album "Last Young Renegade," All Time Low returns to the reckless and carefree sound fans loved. This time, instead of being a hopeless and struggling band, they share an energetic and hopeful side through their music.
Leave a Comment