HOSA advances to state
Freshman Advika Varadharajan, senior Kathryn Foster prepare for next competition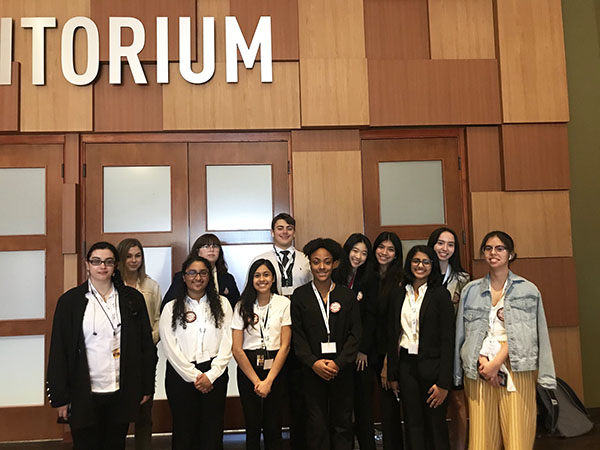 HOSA competed in the area competition at the Bill R. Johnson Career Center on Friday, Jan. 24 and Saturday, Jan. 25. Senior Benafsha Sidhwa placed in fifth place for research persuasive and writing, while senior Kathryn Foster placed third in pathophysiology and freshman Advika Varadharajan placed third in prepared speaking. Both Varadharajan and Foster advanced to the state competition.
"I think [the competition] really pushed me, not only as a competitor but academically," Foster said. "[It] really strengthened my study habits and made me a better student."
For Varadharajan's competition, she competed against 75 people and was required to write a speech about what aspects of the medical field need improvement. Varadharajan recalls her experience in the competition as she competed against the other students.
"My division was especially intense," Varadharajan said. "I had a friend that competed in sports medicine and there weren't really that many people that competed in that division [which was] rigorous. Mine was a simpler task because there was a speech."
As an aspiring pediatrician, Sidhwa competed in HOSA last year, placing fifth in the research and persuasive essay category. Sidhwa credits her passion for the medical field to her childhood.
"I joined HOSA because ever since I was little, I've liked helping people and dressing up as a doctor," Sidhwa said. "I just wanted to [take] this path and see how it goes."
Through HOSA, students expand their knowledge about the medical field and receive the opportunity to meet medical practitioners who give them firsthand information about the individual field they are interested in. By doing this, they also prepare themselves for the state competition on Wednesday, April 1 through Friday, Aril 3 at the Galveston Island Convention Center at the San Luis Resort in Galveston.
"HOSA is dedicated to helping students prepare for the medical field," HOSA adviser Kelly Lancaster said. "We allow them to compete in competitions and allow medical practitioners to come in and talk about their field."
Leave a Comment