Growing up around the world
Senior Mimmi Manelli travels throughout childhood
As she walks onto the airplane from Korea to Japan, she absorbs the culture, the languages and the habits she picked up in the country. She's excited about what the future holds and where she'll go next.
Senior Mimmi Manelli's life lived in a suitcase. She was further familiar with the airport than she was with a home. From Korea to Japan, to Indonesia and Italy, Mimmi has seen it all. She reminiscences on the breathtaking temples in Asia and fawns over the delicious traditional pasta in Italy. If there is anything Mimmi lacks, it's not culture.
She never settled in one place for longer than a year or two, until she came to Texas around five years ago. Her mother traveled frequently as a therapist for trauma patients. Anytime there was any kind of traumatic disaster, Mimmi and her mother picked up and left. The globe was Mimmi's home.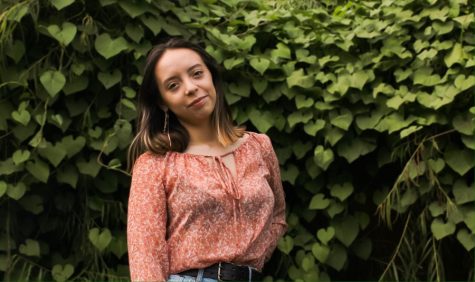 "My mom was really dealing with the worst and most traumatized people," Mimmi said. "In order to help those people and the amount of government-related trauma issues around the world, it required us to go to many different places. I was very fortunate, but the reasons we were moving weren't really the best circumstances. Although, I am really fortunate to have a mom who was able to help people so much as she did."
Due to her continuously moving around, Mimmi never really had a traditional childhood. Although she appreciates the unique experiences she's had growing up, she wonders what it would have been like to live a 'normal' life.
"I would say I'm really happy I got to move frequently even if I didn't get to have a traditional, familiar childhood a lot of my friends have had," Mimmi said. "I'm incredibly envious of some of those people. I could never imagine having something like that, but also I couldn't say with 100% certainty that I would give up my adventures and experiences that I have for a life of living in one place." 
Mimmi never found it hard to make friends. The people around Mimmi have always seen her as a radiant social butterfly. If anything, traveling gave her the bubbly personality she has today. But while she loves meeting new people, it slowly became difficult for her.
"It wasn't hard making new friends because I happen to be a very confident person," Mimmi said. "After having moved as often as I did, I was accustomed to automatically start greeting people and making new friends. I have that confidence, but it was definitely tiring. As I got older, I realized these people will only be in my life for a year or so, and eventually I'd have to say goodbye."
Not only did Mimmi miss out on a traditional childhood, but she never had the opportunity to grow up around her dad. Although she stays with him now, growing up she primarily lived with her mom. 
"I missed a large part of watching my only child grow, which is something I still struggle with accepting today," Mimmi's dad, Richard Manelli, said. "The moments of her early life were priceless, and I don't have another opportunity to experience things like her first words or first steps ever again."
Despite her lack of familiarity, she had the chance to experience a unique lifestyle the common person couldn't say they've experienced. At a young age, Mimmi understood the different ways of living around the world. She was fortunate enough to see all the beauties and cultures of multiple countries. 
"There's a lot of places I've been that are very culturally rich, specifically in East Asia," Mimmi said. "Even when I went to Indonesia, no matter where you looked there was always some sort of temple, historic landmark or even just a random shrine on the side of the road. Even in the middle of the big city there was always something very interesting to see."
While traveling, she became familiar with multiple languages, her first language being Italian, then English and additionally, Korean. Mimmi, at the time, didn't know staying in Korea would benefit her as much as it has. Knowing the language and culture has given Mimmi the opportunity to meet her boyfriend of one year, Hyunwoo Oh. 
"
Our culture was always prominent in our lives. In Italian culture, family always comes first."
— senior Mimmi Manelli
"Mimmi knows the Korean language and culture, so it was helpful to get to know each other," Oh said. "Communication has always been good since the first time we met, so there was no particular problem in that aspect. It was important to me that Mimmi understood my culture because I came to America feeling a lot of cultural differences."
Both the Italian and Korean cultures play a huge role in Mimmi's life. She fell in love with the unique dishes and family importance both cultures hold. She believes the passion and traditions are really what makes them so significant.
"The obvious choice to me, when asked where I'd like to settle, is Italy," Mimmi said. "Just because so much of my family resides there, and I have so much history there as well. I loved living in Italy, it's my second home. I also really enjoyed living in Korea. I was there for a year or more. I lived in the countryside on an island. I remember it being incredibly beautiful, and that was one of the places I was actually able to learn the language quite well." 
Wherever Mimmi travels, her Italian culture will always be important to her. She holds the tradition and warmth of her close-knit family to her heart. Her Italian culture remains a tremendous part of her lifestyle. 
"No matter where I went, that Italian culture always followed," Mimmi said. "Whether it be speaking Italian, making pasta at home, even inviting some of our newly-made friends over to give them a taste of our culture, our culture was always prominent in our lives. In Italian culture, family always comes first."